Entrepreneurial marketing is less about a single marketing strategy and more about a marketing spirit that differentiates itself from traditional marketing practices. Entrepreneurial Marketing is a combination of two discrete management areas. Existing as distinct disciplines, entrepreneurship and marketing have emerged to capture the several facets of marketing that are often not explained by existing traditional marketing theories and concepts. It eschews many of the fundamental principles of marketing because they are typically designed for large, well-established firms. Entrepreneurial marketing utilizes a toolkit of new and unorthodox marketing practices to help emerging firms gain a foothold in crowded markets. So, what is the question going to discuss; What do you understand by Entrepreneurial Marketing? with Characteristics.
Here are explain; What is Entrepreneurial Marketing? with Characteristics.
Definitions of both marketing and entrepreneurship differ considerably and we cannot expect that one single definition of entrepreneurial marketing will cover everything. A contemporary definition that meets the present scope in which entrepreneurial marketing is defined as: "The proactive identification and exploitation of opportunities for acquiring and retaining profitable customers through innovative approaches to risk management, resource leveraging and value creation."
Recently, entrepreneurial marketing has gained popularity in marketing and entrepreneurship topics. The success of business activities pursuing non-traditional marketing approaches can be attributed to entrepreneurial marketing practices. Despite a large number of marketing models and concepts, there are remarkable successes which are distracted from them and labeled them as "entrepreneur". In many countries, there has been a need for economic development which has increased the need for entrepreneurship in society.
Small and medium-sized enterprise areas (SMEs) become more important when large companies follow economies on the scale of reducing and reducing employees. Recently, entrepreneurship and marketing had existed in the form of two independent, intellectual domains. In the last few years, due to the increasing number of entrepreneurial research, many conclusions have been taken to improve marketing knowledge. Normally, the purpose of marketing is to always understand processes and practices within large companies.
However, in the context of entrepreneurial behavior and growth in small-medium enterprises around the world, there has been significant importance in the marketing aspects of small and medium-sized enterprises and entrepreneurship. Entrepreneurial behavior has traditionally been rooted in small to medium-sized enterprises, but entrepreneurial marketing also has a definite impact on large companies. Today, many companies work in a very disturbed environment where the risks increase and decrease forecast and project deficits.
In this climate of sudden change, organizational limitations have become very unclear. In such a business environment, business managers must forget traditional management policies and change them with new thinking and new behavior that will not only involve changes but also make necessary changes in the market. Entrepreneurship can be a good vehicle and entrepreneurial marketing behavior can be of equal importance for many big companies and SMEs.
Characteristics of Entrepreneurial Marketing:
To overcome their problems, entrepreneurial firms need to have a very proactive appr­oach to marketing, which is reflected by the following Characteristics of Entrepreneurial Marketing below are:
Proactive Orientation: Entrepreneurial firms are continually searching for new ways to achieve competitive advantage through changes in established methods in marketing or production.
Innovativeness: Innovative firms have the ability to maintain a flow of new ideas that can translate into new products or services.
Focus on the Customer: An entrepreneurial firm is focused on the need for creative approaches to acquire, retain, and develop customers. Paying attention to the consumer equips the entrepreneurial firm with a knowledge base of customer's requirements.
Utilizing an Opportunity: The recognition and pursuit of opportunity is a core dimension of entrepreneurial marketing. Entrepreneurship has been termed as the process of discovery, evaluation, and exploitation of opportunities. Entrepreneurial opportunities are situations in which new goods, services, raw materials, and organizing methods can be introduced through the formation of new means, ends, or means-ends relationships.
Risk Management: Entrepreneurship is associated with calculated risk-taking. This implies an effort to identify the risk factors and subsequent attempt to control or mitigate those risk factors. Entrepreneurial marketing has an important role in managing risk in the entrepreneurial firm.
Value Creation: Innovative value creation is an important facet of entrepreneurial marketing, as value creation is a prerequisite for transactions and relationships.
Better understand by A Case Study of Entrepreneurial Marketing in Dell Computers.
In 1984, a college student named Michael Dell decided to found a computer company. Today it is one of the largest and best-known computer companies in the world. 4 keys Below are some of the steps that Dell took in its earliest stages to get noticed in the computer market.
Offer something new: In the early 80s, computers were bought and sold primarily through retail stores. Dell took the then-radical step of selling directly to consumers, cutting out the retail middleman. This made it easy for business customers to place large orders and to customize each computer they purchased.
Define their customers: Dell realized early that there was a hole in the market for customized business computers. Their first products were marketed to large and midsized companies looking to purchase many computers at once. It was only in the late 90s that they began to focus on personal computers for students and families.
Go to where the customers are: Dell marketed at electronics trade shows, in trade magazines, and in other avenues that corporate technology officers would follow. Advertising messages highlighted the ways that Dell computers were optimized for business customers.
Offer exceptional services: Dell offered 24-hour technical support to all of its customers. This was a valuable service to customers who were only beginning to integrate computers into their businesses.
SME Marketing and Entrepreneurial Marketing:
The roots of entrepreneurship marketing are considered to be somewhat based within the SME (Small to Medium Enterprises) sector. Indeed, there is a strong argument among marketing gurus that entrepreneurial marketing is actually about SME marketing. There is also an inclination of ideas within the generic marketing management literature, which suggests that entrepreneurial marketing is somewhat like "textbook" marketing, but with just a few flares or just standard marketing, it's just doing something different in all aspects. It appears more in the execution and implementation of creative promotion strategies.
Some people argue that this approach might, aside from what the marketers should do, on the other hand, on the other hand, it can ignore complex subtleties that reduce the entrepreneurial approach to the development of the market. Although being the entrepreneur, this is not necessary because they argue that not all small medium-sized enterprises are the entrepreneur, but entrepreneurship will be required to grow and expand these firms, and the benefits of the small firm in marketing such as Growth can be achieved.
In small companies, decisions are generated from the entrepreneurs and they are capable of working on opportunities and implement strategies faster than big companies. The stability of innovation in large companies is due to theoretical and traditional marketing practices where the focus is focused on the needs of the customers, clearly expressed. Here, the concept of customer value must be introduced to further develop the argument. Entrepreneurial marketing, like marketing in general, can be seen in terms of value creation processes.
The ultimate objective of marketing is to create something that buyers can use to produce their customer value, market offer. In all fixed markets, different levels of approximate customer value, or customer value differences between sellers have been established; Price balance is the expectations of the customers, and if these expectations are met, then it will be repeatedly purchased so that vendors will be able to maintain market position. A traditional market strategy is a market leader and a key player and to establish the level of expected customer value, which will help the firm exploit with profit.
Another way of expressing this is that the key firm should set rules of play among vendors and buyers. One of the main strategies in maintaining a competitive advantage is to make the market as stable as possible and to take advantage of economies of scale in its own production. The argument here revolves around the notion that size affects the firms in the direction of marketing decisions. In this era of dramatic social and technological change, an approach for firms to establish and maintain long-term customer relationships is facilitated by entrepreneurship, resources, processes, and artists (entrepreneur, coordinating firm, as well as four-pillar structure) Through entrepreneurial marketing and network).
Marketing is a challenging process for any organization. In a survey of entrepreneurs around the world, it was found that finance and marketing for problem areas leading to entrepreneurs It is true that a model that works for a firm can not work for any other firm. Many marketing gurus are engaged in a continuous argument within the literature that is fit between the nature of marketing and the theory and practice. In fact, there is a growing and focused literature that SME conducts a different type of marketing for a large firm.
For example, large companies are likely to follow the marketing procedures (for example outsourcing marketing efforts etc.). Small firms often organize their marketing campaigns at home. The main reason behind in-house marketing is capital and cash constraints. There are ideas that suggest that such marketing activity reflects marketing in its pure form "It is marketing but as we know it". SME marketing does not conform to traditional marketing features of textbook principles.
However, they are not the only one in this idea, nowadays it is increasingly being seen that the eclipsed and marketed by entrepreneurs are very different from traditional concepts presented in textbooks and other theories. There are two 'fundamental prerequisites' which will showcase the marketing approach made by SMEs, the platform of small enterprises and the prevailing industry standards run in the medium enterprise (SME) life cycle. However, these things should be kept against the backdrop of the personal characteristics of the owner/manager/entrepreneur because the reasoning of the small firm is the argument of the owner, and the two can not be separated from each other to reduce the conceptual formation.
The first of these life cycle stages – suggests that because of the small and medium-sized firm being mature they have the attitude of marketing. Second: Consistent with industry norms – Industry is centered on norms, in which small and medium-sized (SME) firm is present. Small firms are generally consistent with those criteria which are firmly established within the industry, which are related to firms because a small firm will not have enough resources or even challenge industrial rules in the matter of fact Will not be inspired. It is historically clear that industrial conferences can be challenged by people outside the industry and rapidly it is a small firm with extraordinary market sensing and policies that can challenge such a challenge.
For example, customers give little interest in the industries but they are very interested in meeting their needs. The entrepreneur and industry personality in which entrepreneur-oriented firm operates is likely to exhibit market development orientation and both are related to the overall organizational culture. The firm's "personality" is linked to the personality of the entrepreneur.
Overall, it is strongly argued that on the basis of different dimensions marketing is done in small companies in small to medium-sized enterprises (SMEs). The way small and large companies are different from the marketing decision-making approach. In larger organizations, the decision-making order is done within the ordered framework and in a highly structured manner. Decision making in large companies often has a clear hierarchy. Often the process is based on sound principles and accepted practices. In small companies, the decision making process is different and arises through the entrepreneur or the owner and it is his personality and style that shapes the nature of the decision.
Finally, it is important to say that, entrepreneurial marketing should be considered as a supplement to the current general marketing principles. The area is not revolutionary in this sense that the current marketing approach is considered obsolete! But the entrepreneurial firm, large and medium to mid-sized enterprises, show a large part of the economy. Marketing practices of such firms should be considered within marketing boundaries; There is so much to contribute to the development of modern marketing theory in this kind of research.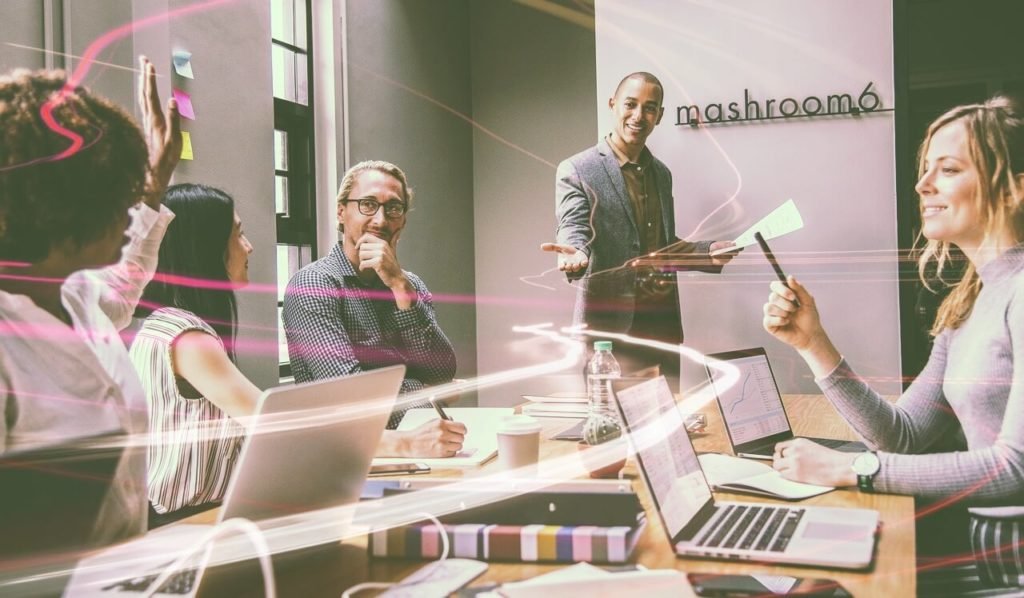 What about Entrepreneurial marketing Employee? Mean's Who is that the Employee on Entrepreneurial marketing.
Entrepreneurial marketing is best defined by the types of companies that use it. The easiest way to identify an entrepreneurial marketing effort is to look at the company doing the marketing. Startups and emerging companies use entrepreneurial marketing to help establish themselves in emerging industries. It is important to distinguish these businesses from small businesses. While they do start small, their goal is to grow rapidly and to become major players in their industry as quickly as possible.
This is drastically different from a restaurant or machine shop that may be content to stay small forever. Growth is the primary goal of entrepreneurship, and marketing is the primary means of growth. The marketing strategies used by emerging business are not unique to them though. In fact, many major companies use some of the same strategies. Nike and Burger King have both used viral marketing to great effect. Major businesses use these strategies out of opportunity while entrepreneurs use them out of necessity.