Recipe of Homemade Honey Wheat Bread by Jenny Jones 
---
Learn How to make it Easy Honey Wheat Bread? Here's another super easy, healthy bread recipe and it's by popular demand. My first "simple whole wheat bread" has been hugely popular but a lot of people have asked if they can eliminate the egg or add honey. YES and YES. This easy honey wheat bread has no egg and it's made with… you guessed it: honey. The interior is nice and soft and it tastes really good.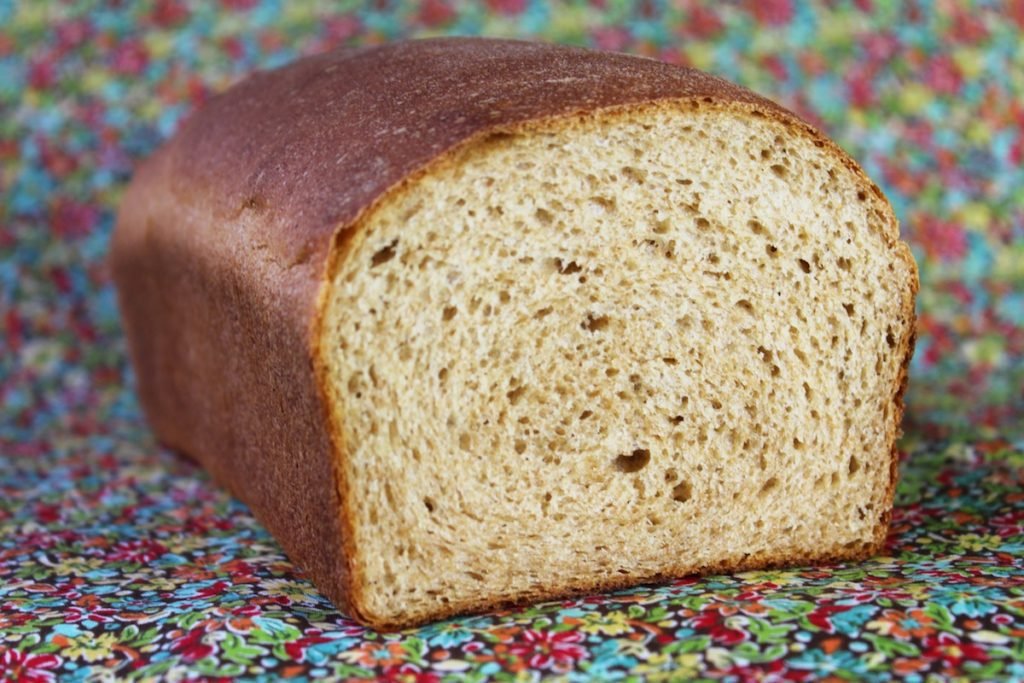 It takes a little longer to make than my other whole wheat bread (the one with the egg) and it doesn't rise quite as tall so if you want it taller or faster, try Simple Whole Wheat Bread. But if honey-wheat bread is your preference, this recipe only takes a few minutes longer. And it works with either honey or sugar, and any kind of vegetable oil you like. I mostly use extra light olive oil.
Having a warm spot to rise your dough helps it grow faster and I'm lucky to have a warming drawer in my kitchen but I have some other ideas on where you can rise dough in This Blog. I hope the bread industry isn't mad at me because so many people have said, "I don't buy bread any more," and that includes me. Between my no knead breads and whole wheat loaves, I always bake my own bread and I'm saving money… and spending it on spatulas! I hope you'll try my honey wheat bread and somebody send me a picture!
Click here for the recipe. – Jenny Jones
How to make Easy Honey Wheat Bread?
---
There's only one rise with this simple and easy recipe for a healthy, soft whole wheat loaf. It works with either honey or sugar. Oil should be at room temperature and ALWAYS AERATE YOUR FLOUR BEFORE MEASURING. – Jenny Jones
Prep Time: 15 minutes
Cook Time: 25 minutes
Total Time: 1 hour, 45 minutes
Makes: One loaf
Start to Make Easy Honey Wheat Bread
Ingredients:
---
1 2/3 cups whole wheat flour
1/3 cup all-purpose or bread flour
2 teaspoons (1 packet / 7 grams) instant yeast (or active dry yeast)
1 teaspoon salt
1 cup 1% milk, heated to 120-130° F for instant yeast (or 110-120°F for active dry)
3 Tablespoons oil (any vegetable oil or extra light olive oil)
2 Tablespoons honey (or sugar)
about 1/4 cup additional all-purpose or bread flour
Instructions:
---
Place flours, yeast & salt in a large mixing bowl.
Stir in milk, followed by oil and honey.
Beat on high for 2 minutes.
Add about 1/4 cup all-purpose or bread flour until dough forms a mass.
Place dough on floured surface and knead 50 turns.
Cover and let rest 10 minutes.
Shape into a loaf and place in greased 8 1/2 x 4 1/2-inch loaf pan.
Cover and let rise in a warm spot until it's doubled in size, about one hour.
Preheat oven to 375° F & bake for 25 minutes. After the first 15 minutes, I cover the top of the loaf with a foil tent to prevent over-browning.
Easy Whole Wheat Bread – Ready in 90 Minutes
---
Here are Video for Better help how to do make it. The technique for this bread is exactly like, Simple Whole Wheat Bread.
---